Unfortunately CGTech is not flexible when it comes to licensing...
Here you can see an example of an application that uses SENTINEL too and allows the SAME USER & SAME COMPUTER to open multiple sessions with the same license. CGTech does not add any sharing criteria in their license keys...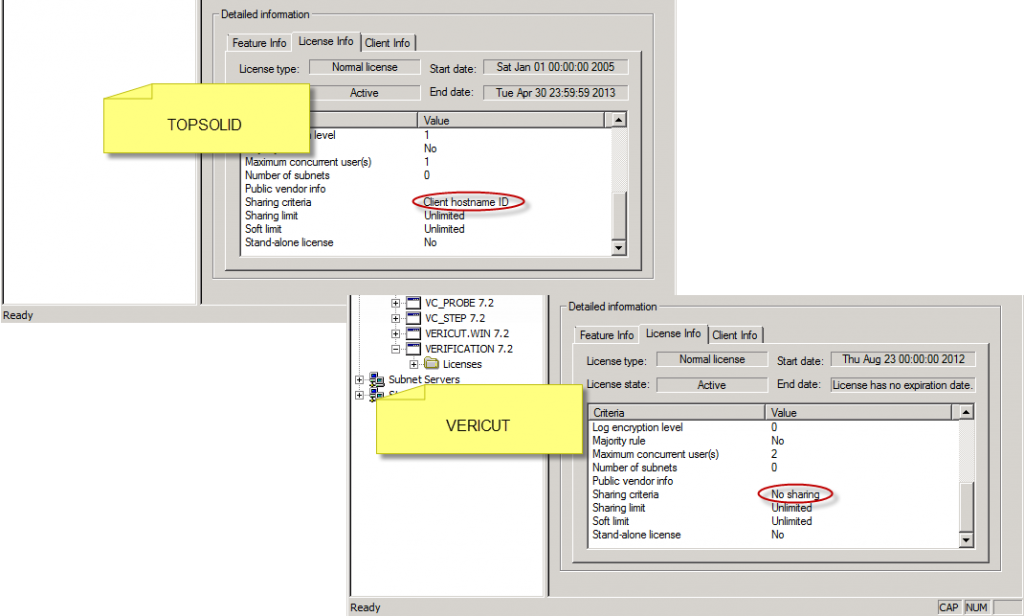 I personally think VERICUT licensing is a bit greedy: you have a way expensive product (I'm not discussing the merit of it) and can't open more than one session without a new license... even when the software crashes you are penalized by this...
All our NC-Programmers and myself have a  dislike by the way CGTech deals with license management today... but it is what it is...
The fact they are so constrained today does not have any effect in our decision to buy new seats in the future. We will buy it if we need it, not because we can't open more than one session today. :nonsense:
If we could have the same benefit we have with other vendors that license their products using a more flexible sharing criteria, that WOULD NOT prevent us to buy more seats if we need to. The default sharing criteria used by Missler (TopSolid) for example is very convenient and useful, but when a new programmer jumps in, we have to buy a new seat. That's it.
I agree with you: If one believes the only thing a VERICUT user does is verification, he's dead wrong.
A- Sometimes you need to open two projects simultaneously to check the differences or what settings you used in each.  :idea:
B - Sometimes you want to open a sample project/control/machine from the library to see how CGTech configured something.  :?
C - Sometimes, you, the sys admin, need to configure/fix something for a programmer. In order to do it, you need to ask a second programmer to stop his work so you can open a VERICUT file side-by-side and see what's wrong, or how you did it for another project/control/machine in a previous project. And now you have two NC-Programmers with crossed arms instead of a single one.  :oops:
Yes, I'm being a lot vocal about VERICUT licensing lately, but it's because someone needs to bring to attention these weird license issues we see in VERICUT.